TLDR; World according to Jon's interpretation of the roadmap session and based on our depth of ABX experiences across 6sense platform and others – with its breadth of new capabilities, 6sense appears to be wanting to compete more with ZoomInfo (as a more sophisticated ZI type player), leveraging their AI capabilities and newly acquired Slintel to offer a multi-dimensional product.  Keep an eye on cookies going away in 2023 and the AI (artificial intelligence) ability of 6sense platform helping drive contextual decision making in the future (although aspirational with the AI aspect).  6s trying to incorporate all types of data – customer usage being one – to enhance the power of their AI core platform.
I was invited to participate in 6sense's customer session before the holidays in Austin, Texas (which was also broadcast virtually, we live in interesting times).  One of the more important take-aways from the session was their roadmap discussion as their product roadmap really supports the Account Based strategy many companies have embarked upon.   The summary of their roadmap below includes my initial blink reaction to what 6sense shared.
2021 Roadmap
Before we cover 2022, let's hit on the 2021 roadmap high points:
Formed stronger integration ties with Bombora, added TrustRadius and G2 Crowd 

Self serve advertising via an improved UI to target audiences better, not just manage inventory better

Deeper levels of Sales engagement platform integration (Outreach, Salesloft) 

Better visibility into Activities by accounts  

AI driven orchestration – 6s admitted it took longer than anticipated to finalize their initial version.  Helps answer, '

When is the right time to put an account in and out of orchestration?'
The Market / Business Challenges to solve
Before we dive deeper into the roadmap, here are key pain points the 6sense product team identified across the industry right now heading into 2022 – many of which my B2B Fusion team also concur exist although some of these are very specific to the 6sense capability and platform (meaning, there are several other ABX challenges beyond those identified below):
Orchestrating accounts to enable the right time to do the right level of (campaign) investment based on account engagement.

Predictive modeling is great, but how do you operationalize the insights making it useful and actionable for all teams for a better prospect experience?

How can customers get more consistent messages across different channels?

How can keywords be grouped and managed better?  I want to add more context to it, for example, competitive keywords versus Product Category A.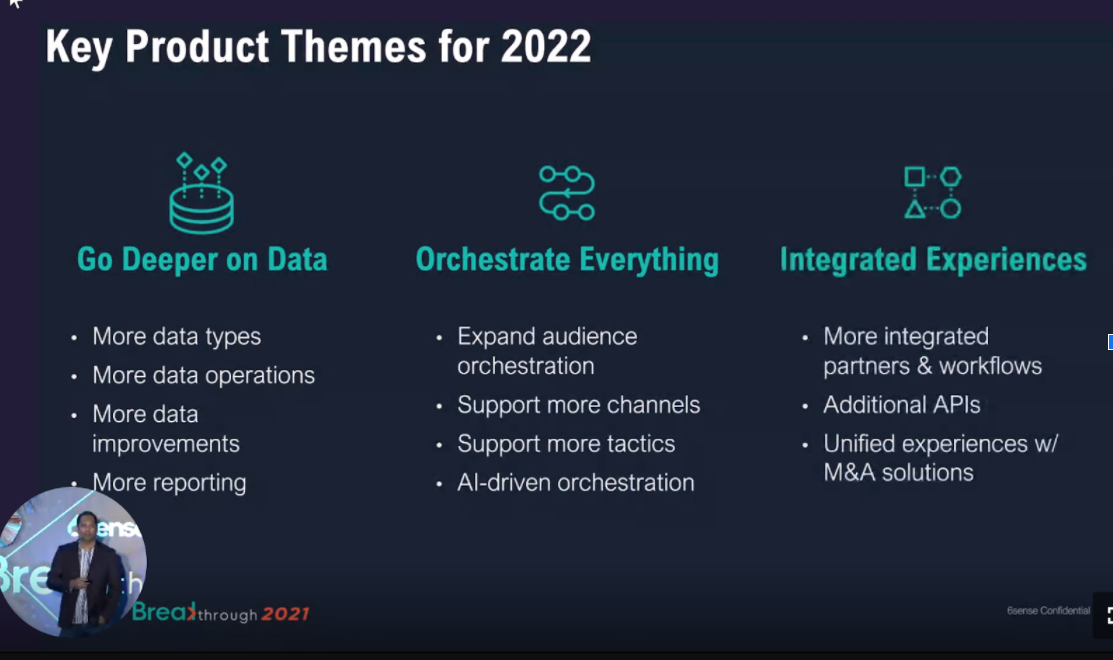 2022 Roadmap
In their opening keynote session, their head of Product Amer Doshi mentioned 3 key themes to focus on in 2022 – data, orchestration, and integrated experiences.  My interpretation of this strategy is the 6sense product is heading towards a ZoomInfo competitor on the Sales Operations side, yet still bolstering the Marketing use case.
 1.  Go deeper into Data as "Data is the new oil"
Leverage new data partners tying to even more of the intent story – Spiceworks, IT CentralSystems (this sounds like a 'BYOI – bring your own intent' model to a deeper extent than existed in the past.  Other competitors are not as embracing as 6sense is in this category.)

More data operations – grouping and organizing keywords across all experiences (Jon note:  which could be extremely valuable for marketers in streamlining their targeting and operation).

Bring on all  kinds of data – email, calendar data, HEAP data – find data to harvest and identify net new contacts that may not be in the CRM yet.  (This one is intriguing and may be very difficult to pull off given the variations of mail platforms – but good in theory.)

Bring in different data types – eg customer data from Pendo, Mixpanel, or Segment (which could be extremely valuable to predict churning or usability of data, this is how some companies like Lattice Engines back 8 years ago had success with clients like our client Thomson Reuters for one of their SaaS offers).

Better reporting – although still not yet convinced the reporting helps the 70% of companies that still use the leads model, 6s is making forward progress in this area.
2. Orchestrate Everything
Data orchestration – designed for revops, doing a data health – state of data, are the right parent/child relationship, enrich the data.   (note:  this is where there is some overlap on both ZoomInfo and their recent acquisition, Ringlead).

Focusing on workflow creation to bring value to the Customer Data Platform concept – ideally curated for each go to market team. (Product usage data as an example).

Orchestrate everything – intelligently automate to connect differing systems – Jon note: this may be challenging to pull off, easy to say though around AI orchestration!

Improve the canvas experience by doubling the size of the internal 6sense UX team;  goal is to deliver more value around segmentation experience for end users with deeper canvas capabilities.  It is difficult to tell if "doubling" means one 6s employee to two but the idea of a more usable interface is what made some marketing automation companies more sticky than others so smart investment on 6s part.

Improve segmentation feature on 6sense – possibly to help create new opportunities for sales.  This is one of its core features so wise decision on their part to invest more heavily here.
3.  Integrated experiences with AI driven orchestration – creating new opportunities.   
Multi campaign, display, etc. multi tactic – webinars, direct mail, targeted ads, nurture, smart tactics – when to put them in the right track with AI.   (This sounds aspirational and visionary as AI work is really challenging to get right in our experiences).

 Accelerate opportunities to gain intelligence around what can close 

 Sequence for a given go to market segment, what are they reaching with, prepare for renewal stage.  

 Cookies going away – contextual will be important – people reading certain types of content.   Content appeals to networking, reach a lot of the right audience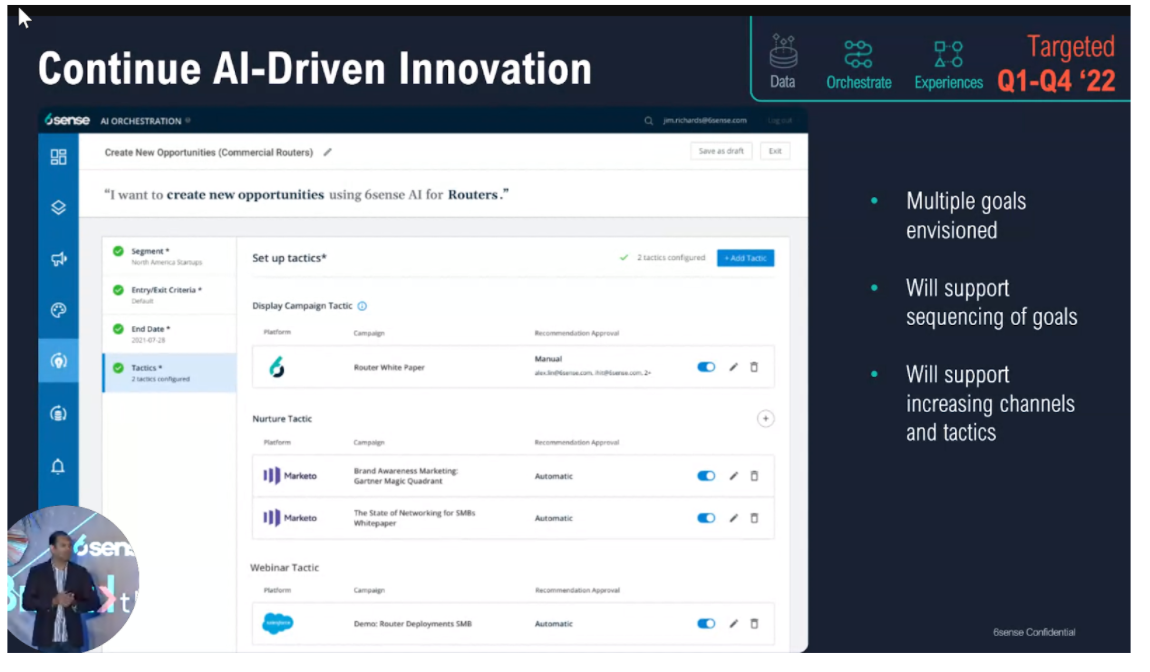 There were several other roadmap nuances that were briefly mentioned – two that stuck out for me:
A newer capability to customize the 6qa which moves away from a rigid or blackbox historical approach.  This would give the ability to identify a 6qa based on awareness or decision buying stage and time stamped.  This is a step in the right direction given the flexibility and abilities of other platforms and their customizable journeys.
Slintel and Fortella:  let me cover that in Part 2 blog as this post is getting too long!  But this acquisition pushes 6sense more towards a Zoom competitor than ever before.  The ability to combine 1st, 2nd, and 3rd party data with technographics can be compelling in certain use cases.   Some of the forecasting Fortella does is intriguing, although for some clients, we've been able to build Marketing forecasting in Salesforce at a basic level.  Adding a Fortella investment may take a Marketing forecast more visual and with more permutation capability once it is fully integrated into the 6s platform, likely as another iFrame in Salesforce.
We've completed over 100 Account based approaches with clients, and with that said,  it appears that 6sense is making a pivot more towards owning the data (via Slintel) and coming across as a unified, integrated platform that aggregates all types of data to make intelligent recommendations around your buying process and possibly the retention process as well.  The future will be exciting to see what else is on the horizon!
RELATED NOTE AND OBLIGATORY CALL TO ACTION: In the 10+ years of experience working with MarTech, we've found that too many companies not getting the right platform ROI out of their investment, and CFOs asking uncomfortable questions of sales/marketers – why do these situations happen?   Companies buy technology ahead of defining business requirements and/or ask a friend 'hey, what do you think of  XYZ platform?' not realizing the friend's go to market use case is different from yours.     Your investment decisions depend on YOUR use case, YOUR go to market motion, and YOUR ability to change your internal selling processes.   If you have questions on defining your requirements as you pivot from a lead based model, reach out jon.russo@b2bfusiongroup.com.  If you found value in this post, like and subscribe to our most popular content.