B2B FUSION
We SIMPLIFY your sales and marketing operations so you can focus on GROWTH.
Free Consultation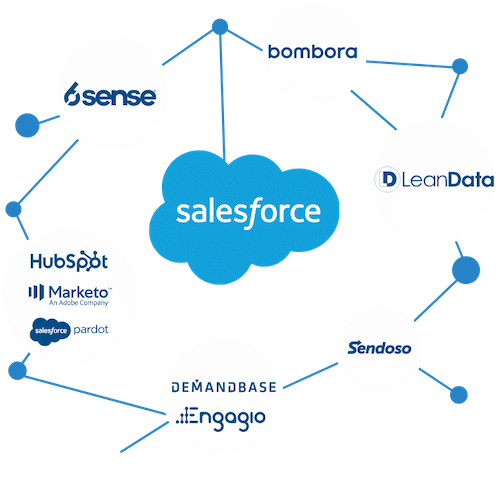 The Unified Funnel is key to
your company's growth
Recent B2B Fusion Engagement Results:
Sales is more productive working only qualified accounts
Sales saves time with fewer SFDC motions, with more account insights
Marketing has credible board level reporting sourcing 44% of revenue
Marketing confidently can forecast their 2021 top line growth
Marketing saves money and time by using existing MarTech vs. 'burning down' and starting over

What our clients say about us…
…B2B Fusion educated us, provided us the ABM tools and use cases to evolve our discussions to build a sustainable program with the resources we have available.
Lynnice Wolf
Head of Field Marketing, McAfee
Our data wasn't flowing. B2B Fusion made our tech stack hum.  B2B Fusion's project quantified marketing's Account Based contribution to the pipeline at 44% and helped the company direct more resources towards it.
Molly Walsh
Head of Marketing, CodeScience
Jon Russo and the team at B2B Fusion have done outstanding work for us at Thomson Reuters. We have engaged them to assist us with a significant business process optimization project that entailed sales & marketing alignment and better connecting our marketing investment to revenue with comprehensive dashboards and metrics
Sal Abramo
Director, Marketing Operations, Thomson Reuters
"I've hired B2B Fusion for three back-to-back engagements to help my team deliver a first-of-its kind marketing and sales demand generation engine that increase marketing efficiency, reduces sales corrupted time and enables closed-loop marketing measurement and performance optimization. They have delivered on their promises and helped shape and transform the company's approach to creating more predictable demand to achieve sales and revenue growth objectives."
Corey Livingston(Recent) Director of Demand Generation, Level (3)
"B2B Fusion delivered a 350% increase of MQLs over any other tactic we had run in the prior year. They set up an email campaign and gated whitepaper reach strategy. 12% of these new MQLs turned into SFDC opportunities. My head of sales and I were really pleased with the result!"
Dan RocheVice President, Marketing, PGi
Read and listen to how we think of our Account Based and Revenue Acquisition Strategies.